It's kinda strange to feel "old" being in your early 20-ies, but for the last couple of years I began to think more and more about the toys I had as a kid, most of with were left behind, when we moved from Budapest in 1996 (we lived there for several years due to my father's work). Some of them were a real challenge to find after all these, since I pretty much didn't remember the brands and names, but I managed! And with my current obsession over spank! I'm sure that I'll be on a never-ending search on Ebay to get the long-lost candy-colored items of my childhood (and some pieces I didn't have, but which are just so cute!)!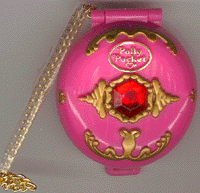 Images from www.onlypollypocket.com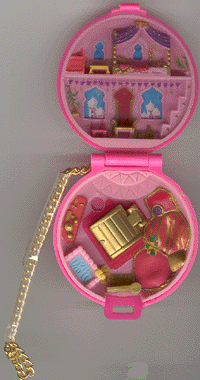 Polly Pocket was one of my favorite toys - I had "Polly's Dream World" big play set, which I recall getting on a big toy expo, a standart-size blue "Nursery" and this little jem, which I'll be sure to hunt down, Jeweled Palace. It was a smaller, necklace type arabic setting. I loved it so much, cause it was so princess-like! And now I'll probably start collecting some of the old play sets (that could actually fit in your pocket, unlike the Polly they make today), most likely the lockets - all the pastel hearts and stars will fit great with spank!.
Image from www.ghostofthedoll.co.uk
Cupcake dolls - this is one thing I remembered, but couldn't recall the name until today, when I ran into it on a 80's-90's nostalgia blog. Me and my sister both had one - my was Sugar Puff from the Cotton Candy series. Her skirt smelled like powder sugar and vanilla. Since they're only good for display, I won't search for others, except maybe a few who'll have appealing cupcake color combos.
My Little Ponies - I was a G2 kid, and recall having an couple of a mother and baby, orange with green stars. Attempts to find their names and images were futile, but about a year ago I gained interest in the G3 Ponyville series - right now I only have Starsong standing on top of my computer screen, but I'm awaiting about 6-7 of her friends to arrive in the mail pretty soon. I might look into bigger toys, but will probably pick only based on the looks and color combos, both G2 and G3 ones. G1 doesn't really appeal to me, and G4 toys are ugly as sin.